All classes are currently suspended
But......
Unless anything changes, we shall be resuming the Junior classes on Wednesday 14th April
Martial Arts School Specialising in

Children's

Educational Martial

Arts

& Self Defence
Established 4th January 1985
January 2021 was the clubs
Our classes run throughout the school holiday periods providing a continuous, unique and worthwhile opportunity to learn valuable life changing skills that we hope will make a positive difference to all our students, young and old.
Now celebrating 36 years of providing
"Top Gun"
tuition within the Martial Arts to students from 8 years of age upwards!
--------------------------------------------------------
Site last updated on the 5th March 2021
-------------------------------------------------------------------
Classes timetable:
All adult classes are now suspended until further
notice.
Wednesdays: Starting 14th April
Juniors class - 8 to 16 year olds
Low grades 6pm till 7pm
High grades 7pm till 8:30pm
Don't forget to bring/wear suitable
outdoor clothing and footwear as we
will be training outside, weather
permitting.
-------------------------------------
LOOK!
Don't forget that the pre-lockdown Covid-19 restrictions will still apply when we return on the 14th April, we must all continue to adhere to these rules in order to keep each other safe.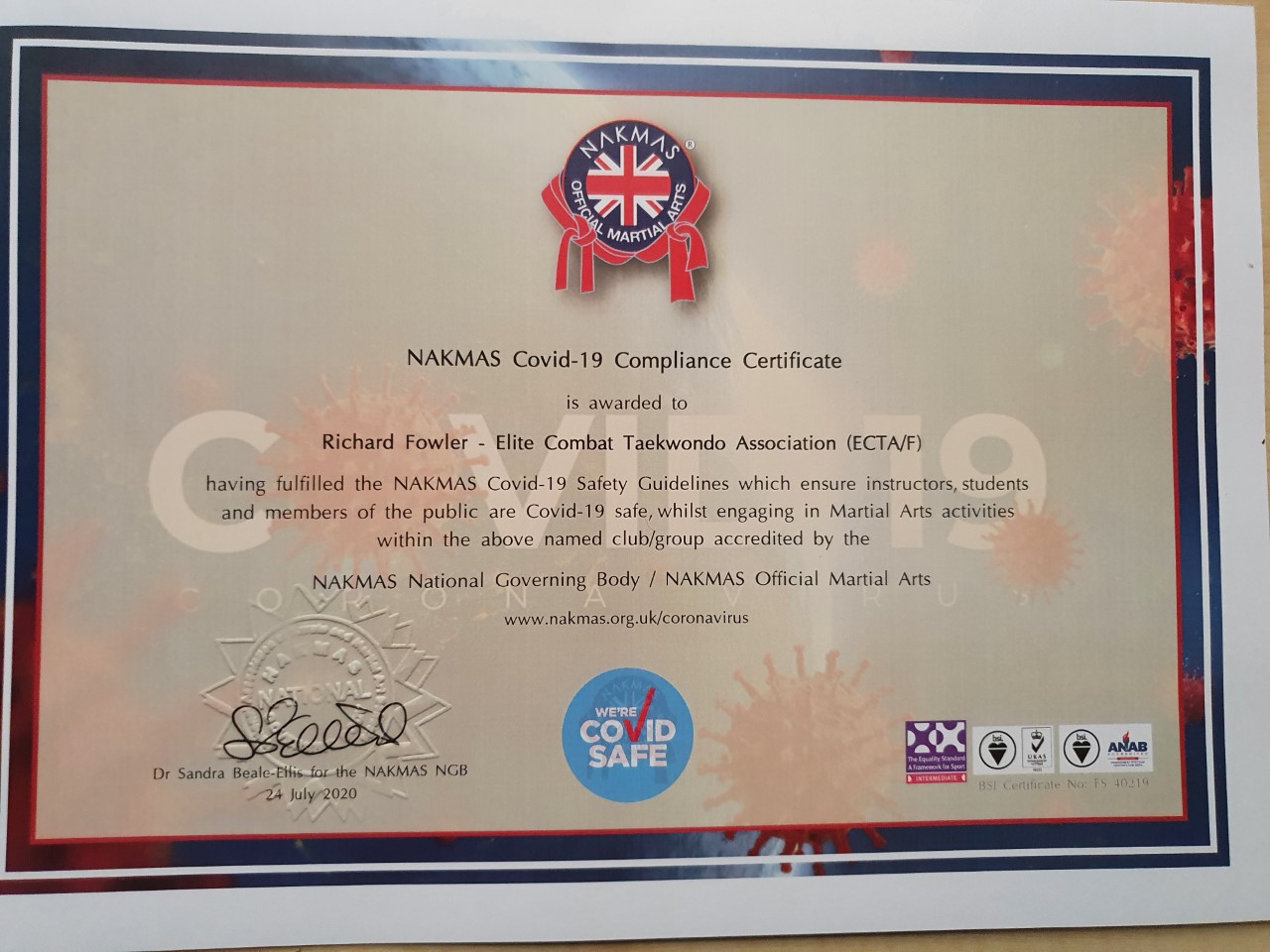 Above
NAKMAS Covid-19 club
compliance certificate
Established in January
1985, we are the
2nd longest running
martial arts club
in Dover.
---------------------------------------------------------------------------
Our Program
Our instructors are experienced, fun to work with, and completely professional. Our facilities are clean and comfortable, with male and female changing rooms, safe off road parking, and disabled facilities.
Our club is open 50 to 51 weeks of the year, offering quality Master grade tuition within the Martial Arts.
Hope to see you soon!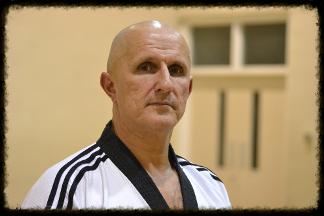 Above: Master Fowler 7th Dan
\ \ \ \ \ \ \
Services
The Elite Combat Taekwondo Association is the second longest consecutively running martial arts school in the Dover area. It is headed by Master Richard Fowler 7th Dan, who, with his team of qualified and respected instructors, have well over 100 combined years of experience within the Martial Arts.
If you want to learn more about our program - you can contact us here.
We are members of
Our Mission
Our mission is to help our children
Learn discipline and respect!
and stay fit whilst having fun learning a combination of martial arts, incorporating self defence techniques, in a safe and secure environment.
Our aim is to provide safe, effective and friendly coaching in Martial Arts to all sections of the community, and to promote the benefits of Martial Arts for general fitness, health and well-being.
----------------------------------------Current Club Timetable
Junior Classes
Every Wednesday evening
Beginners are most welcome
Click on pages for details
Seniors
These classes are currently suspended until further notice.
Beginners will be most welcome
Click on pages for details
Contact us at: ectauk@gmail.com
We are!
Specialists in children's Educational Martial Arts
We build!
Confidence in every student, regardless of
age and ability
We provide!
Safe and expert Master grade tuition
Our club is!
Suitable for children and adults of all abilities
from 8 years of age upwards
So!
Why not come along and try us
Get your first taster
session free!