MARTIAL ARTS
BACKGROUND
OF THE
FOUNDER &
CHIEF
INSTRUCTOR
Master Fowler
7th Dan
I I I I I I I
My sunrise - 7th June 1956
Changing times!
During my formative years as a martial artist, safeguarding was virtually unheard of, children's martial arts classes were virtually unheard of, other than Judo which I did as a child, protective equipment was virtually unheard of together with it being of a very poor quality, and it's use was either actively discouraged, or not allowed at all! Classes consisted of mostly men, very few women attended any of the classes that I attended at that period in time.
Training was very physical, violent and relentless, in my mind, not for the feint hearted, you had to "really want it", and have the "spirit", to get through it! Rightly or wrongly, I think it was those conditions that, in one way or another, produced a totally different kind of martial artist.......food for thought?
One thing I know for sure, and that is that if I were to run my classes the way they used to be run in my formative years.....they would be empty!
January 1980 - Began my martial arts journey in Za-Zen Zen-Shin-Ryu Karate, under John Alexanda, Roger-Thia-Jones, and Mike Knight. I won numerous competitions whilst I was a member of this group.
1981 - Began Taekwondo under Master Ian Morrison, then Ian Wheeler, and Mick Clark.
1982 - Additional training with Ron Jones, Shotokan Karate.
1983-BTCB British National Taekwondo Championships Peterborough-4th place-Heavy Weight division.
1983-Chungs Academy Taekwondo Championships Plymouth-3rd place-Heavy Weight division.
1983-BTCB British Taekwondo National Selection Championships-Manchester-4th place-Heavy Weight division.
1983-Shins Open National Taekwondo Championships-Runcorn-2nd place-Light/Heavy Weight division.
1984-Trained with British squad (BTCB).
1984-Awarded 1st Dan with the BTCB in London under Master Kim Yong Ho
1985 - Trained with Paul Evans, Shotokan Karate.
1985-Founded Dover School Of Taekwondo at Dover YMCA.
1985-Awarded 1st Dan with British Jidokwan under Master Ian Morrison.
1985 to 1987- Members of the BTCB.
1986-BTCB British Olympic Taekwondo Team Selection Championships-Manchester-3rd place-Heavy Weight division.
1986 - One months training in South Korea under Ro-Wook-San, national team captain, national heavyweight champion of 1986 and Korean Special Forces "Korean Tiger"
1987 - Trained with Hanshi Bernard Creton, Jitsu Kai Karate.
1988 - Awarded 2nd Dan under Master Ian Morrison, British Jidokwon.
1989 - Visited and trained in Thai Boxing-Thailand.
1989 - Coach to Dover Kickboxing Club.
1990 - Trained in Judo under Mick Davies-Dover.
1991-MAC Coaching Award.
1991 - Joined Amateur Martial Arts Association.
1994 - Awarded 3rd Dan with the BTCB, graded by Grandmaster Park Soo-Nam in London. Kukkiwon certificated.
1995 - trained and graded to 3rd Kyu in Kyokushinkai Karate under the late Sensei Barry Bergen.
1995 - attended, and completed, Hanshi Steve Arneil's Kyokushinkai summer training camp.
1999 - Moved dojang to the Gym Club Dover.
2000 - Joined NAKMAS, National Association of Karate and Martial Arts Schools.
2000 - Senior Instructor with NAKMAS.
2000 - NAKMAS Level 1 Coaching Award
2000 - Became NVQ qualified Assessor and Verifier,D32 & D33.
2000 – awarded 4th Dan with NAKMAS.
2000 – NAKMAS Level 2 Coaching Award
2001 – Appointed Technical Executive Officer to NAKMAS committee.
2001 – Moved Dojang to Astor School on 4th July.
2001 – Appointed as NAKMAS Vice Chairman.
2003 – Appointed NAKMAS deputy chairman.
2005 – Awarded 5th Dan - NAKMAS
2011 – Awarded 6th Dan - NAKMAS
2018 - Awarded 7th Dan - NAKMAS
2022 - 42 years on and I'm sill as hungry, still searching.......
"Parting the clouds, seeking the Way" Gichin Funakoshi
People wonder why I do this?
I wonder why they don't!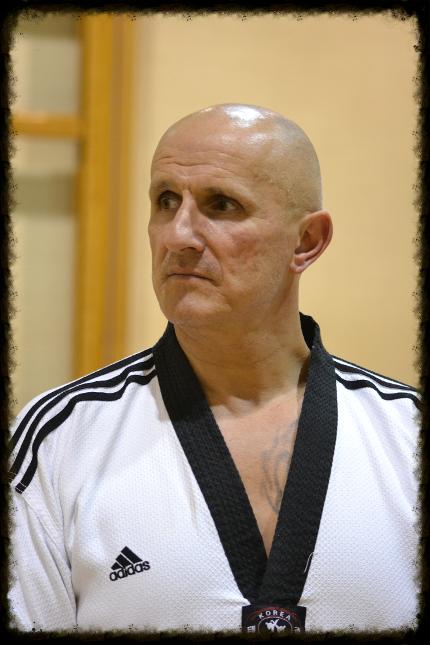 As you can see from my Martial Arts background, I have been fortunate enough to have met, trained with and been taught by, some of the finest Martial Arts exponents in the world. By being blessed with these opportunities, these people, along with many others, have touched my life with their wisdom and knowledge, and I owe everything I know to them, they have helped me to learn, and given me an unquenchable thirst for knowledge. Thanks to them, they have all helped me to experience the promise and fulfillment of the Martial Arts. Osu!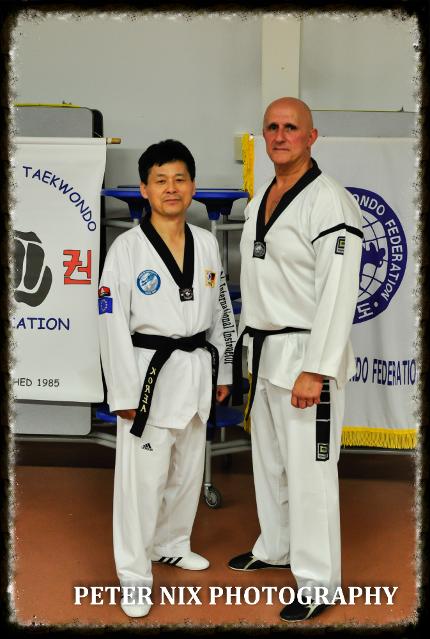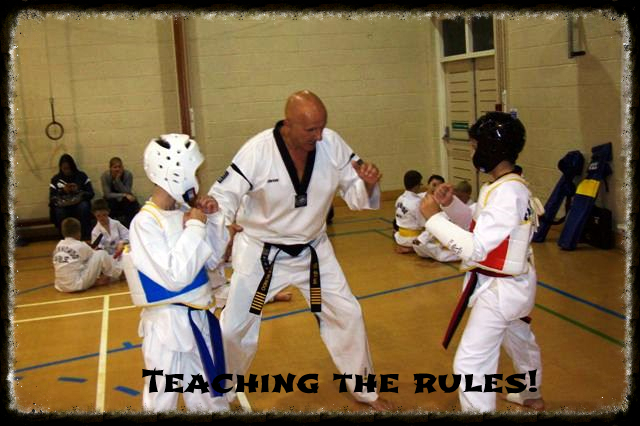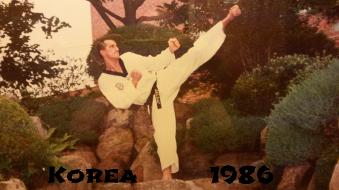 Above: Korea 1986.....with black hair! Ha!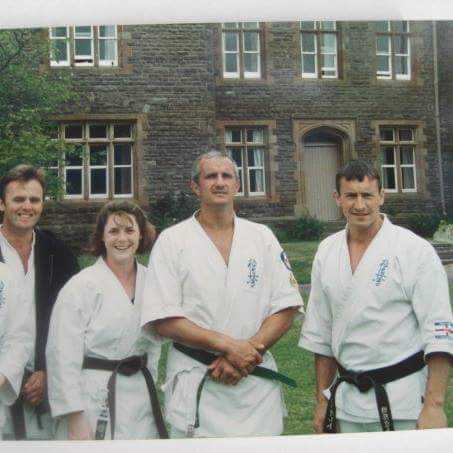 Above: Me as a 3rd Kyu Kyokushinkai in Brecon, 1995 Kyokushinkai Summer camp with my instructor Sensei Phil Bones, right of me in picture.
Not for the feint hearted!
A week to remember!
Below:
Me, Manchester,1983, 4th place Heavyweight division
British Team selection championships
Bottom Me with my two beautiful granddaughters!
Hattie - Left & Florence - Right