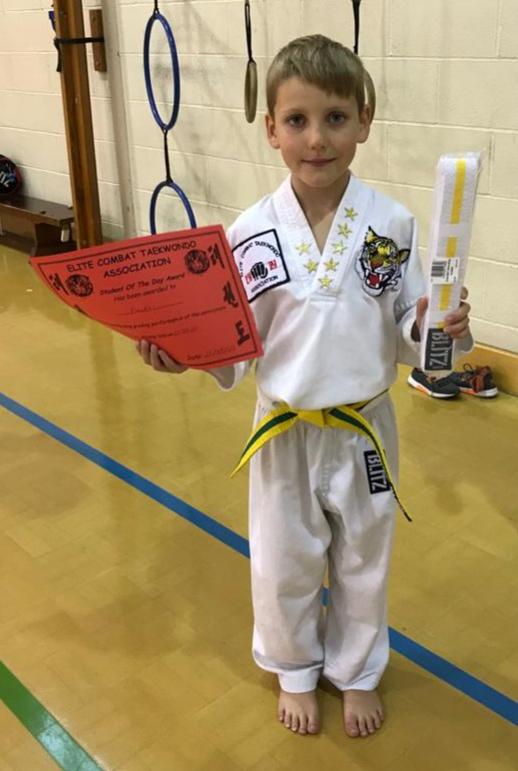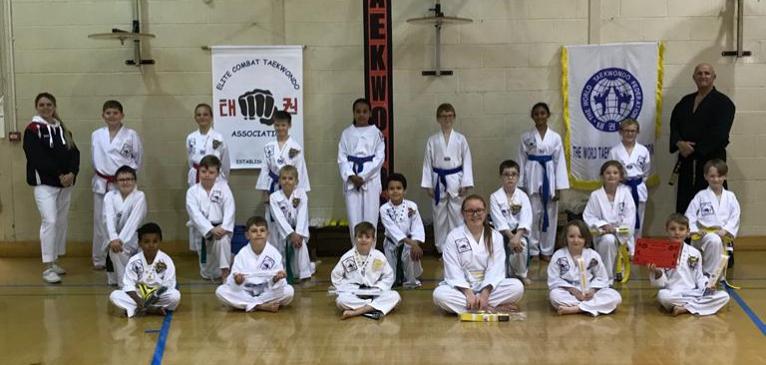 Top - Junior student Findlay Want with
the
"Student Of The Day"
award certificate
Above - Juniors at the associations
142nd grading
held on the 27th September 2020
ECTA's 142nd GRADING
RESULTS
27th September 2020
Well done to all of you! Special
congratulations to Findlay Want who
gave an outstanding
performance throughout his grading,
well done Findlay, keep it up!!
Congratulations also to you three
seniors that took and passed your 1st
Kup grading, not an easy one, very
well done!!
Special thanks also to Sabomnim
Yasmin and Cho Su Frank, both of
whom gave up their day to come
along and assist with the grading.
Grading results are as follows:
Juniors
Riley Danko - 9th Kup
T J Paine - 9th Kup
Findlay Want - 9th Kup
James Goode - 9th Kup
Morgan Hutchinson - 8th Kup
Sophie Morris - 7th Kup
William Rook - 7th Kup
Finlee Streeting - 6th Kup
Reuben Miller - 5th Kup
Tobey Wells - 5th Kup
Koby Jones - 5th Kup
Robbie Danko - 4th Kup
Noah Husk - 4th Kup
Angelea Sodhi - 3rd Kup
Dexter McConnel - 3rd Kup
George West - 3rd Kup
Joshua Howarth - 2nd Kup
Acacia Miller - 2nd Kup
Holly Stoneman - 1st Kup
Ben McGreggor - 1st Kup
Seniors
Dawn Lovelock - 1st Kup
Ben McConnel - 1st Kup
Donna Sumpter - 1st Kup