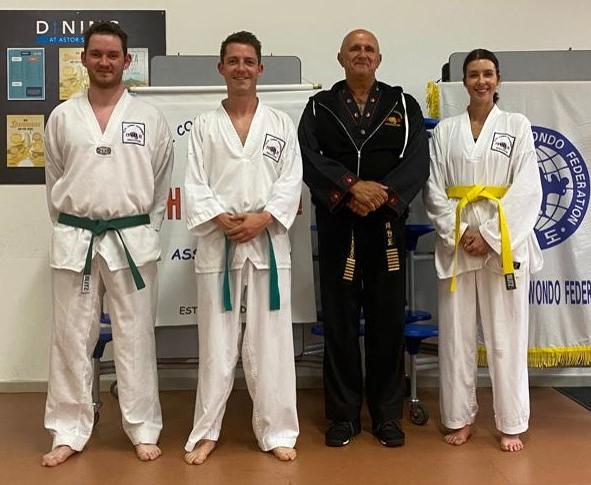 Above - Seniors that graded on
Wednesday 29th June 2022
Abi Stroud - 8th Kup
Nick Stroud - 6th Kup
Lewis Stroud - 6th Kup
Great grading.....keep it up!
Remember,
A black belt is a white belt that never quit!
ECTA's 146th GRADING
RESULTS
26th March 2022
Congratulations to Oliver, who
gave an outstanding
performance throughout his grading,
and was awarded the student of the
day, well done Oliver, keep it up!!
Special thanks to Cho Su Dawn,&
Kyosanim Matthew,
both of who gave up their day to
come
along and assist with the grading.
Good to see all you parents! hope you
were all proud of your children's
performances.
Grading results are as follows:
Juniors
Rosie Adams - 9th Kup
Oliver Heneghan - 9th Kup - Student of the day!
Jimmie Miller - 9th Kup
Alexander Saber - 9th Kup
Samuel Sojka Krejci - 9th Kup
Samanta Czajka - 8th Kup
Marisol Elias - 8th Kup
Joshua Wallege - 8th Kup
Connor Cowan - 7th Kup
Parker Robinson - 7th Kup
Isabelle Crompton - 6th Kup
Riley Danko - 6th Kup
Kacper Fijalkowski - 6th Kup
T J Paine - 6th Kup
Larisa Sargisan - 6th Kup
Findlay Want - 6th Kup
Olivers Zikmanis - 6th Kup
Leila Zikmanis - 6th Kup
Morgan Hutchinson - 5th Kup
Willian Rook - 5th Kup
Ayla Kemp - 4th Kup
Finlee Steeting - 4th Kup
Koby Jones - 3rd Kup
Ethan Calvo - 2nd Kup
Robbie Danko - 2nd Kup
Noah Husk - 2nd Kup