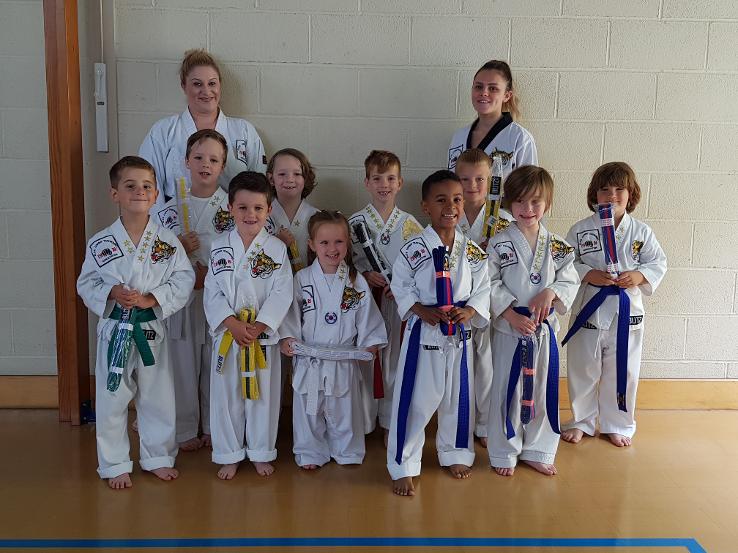 Above: Little Tigers with Cho Su Dawn, left, and
Sabomnim Yasmin, right, at the grading in
June 2019
ECTA's 138th GRADING RESULTS
23rd June 2019
Well done to all of you! Little Tigers, Juniors,
and Seniors.
Congratulations to Little Tiger TJ Paine who after years
of hard work and dedication, was awarded his Little
Tigers Black belt. Very well done TJ, that's what you get
when you stick with it!
Huge respect goes to Sabomnims Scott, Richard &
Yasmin, all of whom, after months of preparation and
hard work, took and passed a very tough and
demanding 2nd Dan grading. They are now amongst the
only 4 people in the association's 34 year history to
have achieved this grade.
HUGE RESPECT!
Congratulations to you all.
Special thanks to:
Sabomnin Yasmin, Cho Su's Donna, Dawn, Lee &
Brandon,
Kyosanims Callum, Rachel & Louis, Mathew, Ben &
Josh,
all of whom gave up their Sunday
afternoon to come along and help those that
graded, your help was much appreciated.
Thank you also for the friends and families
that come along to support the students and
the club.

Grading promotions are as follows:
LITTLE TIGERS
Isabella Taylor - 9th Kup
Luca Hewitt - 9th
Charlie Brandon - 7th Kup
Riley Danko - 7th Kup
Harry Jacobs - 7th Kup
Austin Husk - 5th Kup
Kacper Fijalkawski - 3rd Kup
Finlee Streeting - 3rd Kup
Nail Vaness -3rd Kup
T J Paine - Little Tigers Black Belt
JUNIORS
George Wain - 9th Kup
Reuben Miller - 8th Kup
Ruby Hall - 7th Kup
Koby Jones - 7th Kup
Jack Saunders - 7th Kup
Ayla Kemp - 6th Kup
George Husk - 6th Kup
Alajandro Armstrong - 5th Kup
Zachary Beer - 5th Kup
Poppy McConnel - 5th Kup
Angelea Sodhi - 5th Kup
George West - 5th Kup
Micah Brearley - 3rd Kup
Ben McGregor - 3rd Kup
Hollie Stoneman - 3rd Kup
Ruby Burn 2nd Kup
Maya Armstrong - 1st Kup
Sky Forrester - 1st Kup
Seniors
Pete Turner - 4th Kup
Niki Earle - 3rd Kup
Scott Burn 2nd Dan
Richard Fowler Jnr - 2nd Dan
Yasmin Smith - 2nd Dan