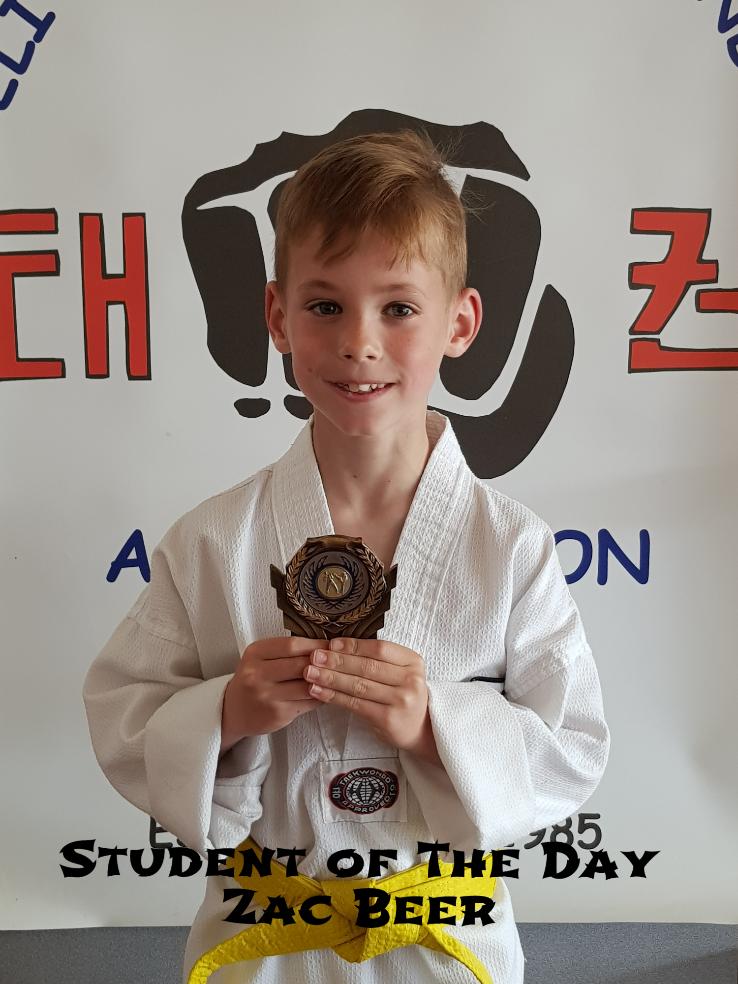 ECTA's 134th GRADING RESULTS
24th June 2018
Well done to all of you! Little Tigers, Juniors,
and Seniors.
Congratulations to you all.
The student of the day trophy went to Junior
Zac Beer, who showed a high
standard of knowledge and ability throughout
the grading.
Well done Zac, your efforts are
paying off, keep it up!
Special thanks to:
Sabomnin Yasmin, Cho Su Donna,
Kyosanim Louis,Callum & Callum & Brandon,
all of whom gave up their Sunday
afternoon to come along and help those that
graded, your help was much appreciated.
Thank you also for the friends and families
that come along to support the students and
the club.

Grading promotions are as follows:
LITTLE TIGERS
Austin Husk - 8th Kup
George Husk - 8th Kup
Jayden Smith - 8th Kup
Kasper Fijalkowski - 7th Kup
Nial Vaness - 7th Kup
Finlee Streeting - 7th Kup
Reuben Miller - 6th Kup
Jake Xhelo - 6th Kup
Koby Jones - 4th Kup
T J Paine - 4th Kup
JUNIORS
Toby Wells - 9th Kup
Robbie Danko - 9th Kup
Alalandro Armstrong - 8th Kup
Zachary Beer - 8th Kup - Student of the day award
Angelea Sodhi - 8th Kup
George West - 8th Kup
Jayden Winder - 8th Kup
Ekaterina Simenaite - 8th Kup
Ethan Calvo - 7th Kup
Dexter McConnel - 7th Kup
Amber McConnel - 6th Kup
Poppy McConnel - 6th Kup
Amy Xhelo - 6th Kup
Micah Brearley - 5th Kup
Ben McGreggor - 5thKup
Hollie Stoneman - 5th Kup
Alfie Champion - 4th Kup
Joshua Fryer-Kelsey - 4th Kup
Maya Armstrong - 3rd Kup
Sky Forrester - 3rd Kup
Daniel Saber - 3rd Kup
Dennis Saber - 3rd Kup
Mathew Morris - 2nd Kup
Seniors
Matthew Kemp - 9th Kup
Zac Flood - 6th Kup
Pete Turner - 6th Kup