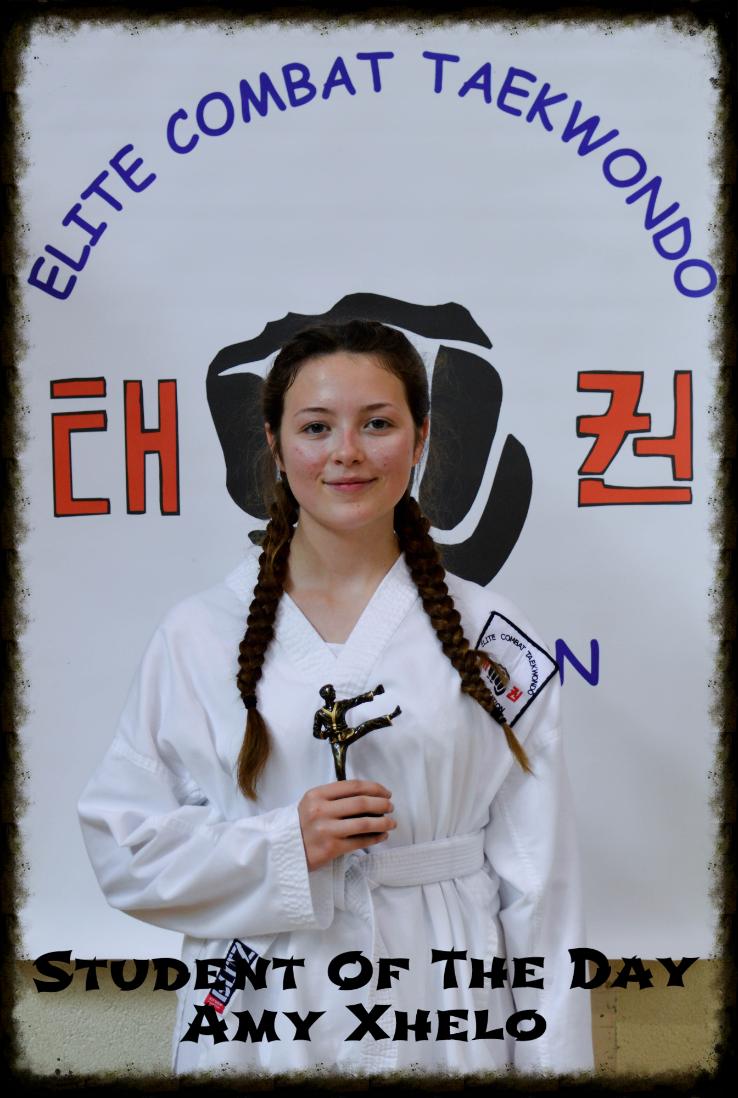 ECTA's 131st GRADING RESULTS
17th September 2017
Well done to all of you! Little Tigers, Juniors,
Seniors and Over 50's,
Very well done to you all.
Special congratulation go to Charlie Lilley who
was awarded his Junior 1st Dan Black Belt.
Well done Charlie, you have showed that with
continued effort and commitment, together
with an indomitable spirit, you can
achieve many things in life!
Keep it up!
The student of the day trophy went to Junior
Amy Xhelo, who showed a high standard of
knowledge and ability throughout the grading.
Well done Amy, your level of ability is a
credit to you. Keep it up!
Special thanks to:
Kyosanims Yasmin, Rachel, Rory & Louis,
to Donna, Sue, Owen & family,
and to Jorgie & Matthew, all of whom gave up
their Sunday
afternoon to come along and help those that
graded, your help was much appreciated.
Thank you also for the friends and families
that come along to support the students and
the club.

Grading promotions are as follows:
LITTLE TIGERS
Reuben Miller - 9th Kup
Jake Xhelo - 9th Kup
Hattie Fowler - 8th Kup
Koby Jones - 7th Kup
T J Paine - 7th Kup
Ethan Calvo - 7th Kup
Jude Sutton - 5th Kup
Harry Young - 4th Kup
Noah Husk - 2nd Kup
Eli Vaness - 2nd Kup
Ekaterina Simenaite - 1st Kup
JUNIORS

Amy Xhelo - 9th Kup - Student of the day award!
Acacia Miller - 8th Kup
Ewan Turk - 8th Kup
Lauren Turk - 8th Kup
Joshua Howarth - 8th Kup
Jacob Fijalkowski - 8th Kup
Micah Brearley - 7th Kup
Jack Major - 7th Kup
Ben McGreggor - 7th Kup
Hollie Stoneman - 7th Kup
Jennifer Little - 7th Kup
Sadie Betts - 5th Kup
Roby Burn - 5th Kup
Joshua Fryer-Kelsey - 5th Kup
Sky Forrester - 4th Kup
Brandon Smith - 3rd Kup
Callum Arthur - 1st Kup
Callum Onions - 1st Kup
Charlie Lilley - Junior 1st Dan
Seniors
Zac Flood - 9th Kup
Ben Foreman - 8th Kup
Dawn Lovelock - 8th Kup
Ben McConnell - 8th Kup
Susan Preston - 8th Kup
Roman Semenas - 8th Kup
Donna Sumpter - 8th Kup
William Oku - 2nd Kup
Over 50's
Marion Betts - 6th Kup
Sandra Lilley - 6th Kup
Steve Lilley - 6th Kup
Niki Earle - 6th Kup