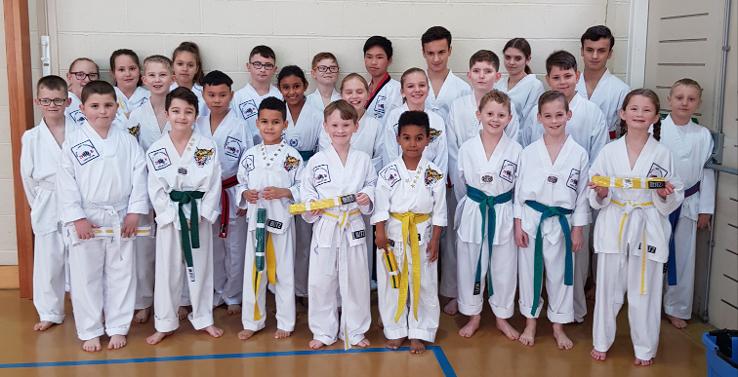 Above - Smiling faces at the grading held on
22nd December 2019
ECTA's 140th GRADING RESULTS
22nd December 2019
Well done to all of you! Little Tigers, Juniors,
and Seniors.
Special congratulations to Matthew Morris who
successfully passed his junior black belt,1st Poome,
and gave an excellent performance throughout his
grading.
Well done Matthew, keep it up!
Also, special congratulations to Sophie Morris,
who was awarded the student of the day
certificate for an outstanding grading and showed
determination in everything that she did.
Very well done Sophie!
A very successful day in the Morris household!
Congratulations to you all.
Special thanks to:
Sabomnin Scott, Cho Su's Donna, Dawn,
Kyosanims Callum , Brandon & Henry, Isaak, Kobi Josh
& Ben, all of whom gave up their Sunday
afternoon to come along and help those that
graded, your help was much appreciated.
Thank you also for the friends and families
that come along to support the students and
the club.

Grading promotions are as follows:
LITTLE TIGERS
Oscar Hewitt - 9th Kup
Oscar Stoneman - 8th Kup
Luca Hewitt - 7th
Findlay Want - 7th Kup
Harry Fagg - 6th Kup
Charlie Brandon - 5th Kup
Riley Danko - 5th Kup
Harry Jacobs - 5th Kup
Austin Husk - 3rd Kup
Nail Vaness 1st Kup
JUNIORS
Layton Birchenough - 9th Kup
Josie Boyce - 9th Kup
Morgan Huthchinson - 9th Kup
Darcie Peters - 9th Kup
Dylan Smith - 9th Kup
Tyler Smith - 9th Kup
Sophie Morris - 8th Kup - Student of the day award!!
William Rook - 8th Kup
Finlee Streeting - 7th Kup
Reuben Miller - 6th Kup
Zachary Beer - 5th Kup
George Husk - 5th Kup
Alajandro Armstrong - 4th Kup
Poppy McConnel - 4th Kup
Dexter McConnell - 4th Kup
Angelea Sodhi - 4th Kup
George West - 4th Kup
Micah Brearley - 2nd Kup
Ben McGregor - 2nd Kup
Hollie Stoneman - 2nd Kup
Ruby Burn - 1st Kup
Daniel Saber - 1st Kup
Dennis Saber - 1st Kup
Matthew Morris - 1st Poome
Seniors
Ronnie Veness - 8th Kup
Rchard Estdale - 8th Kup
Nike Earle - 2nd Kup